Bodies, Borders, Migration: Workshop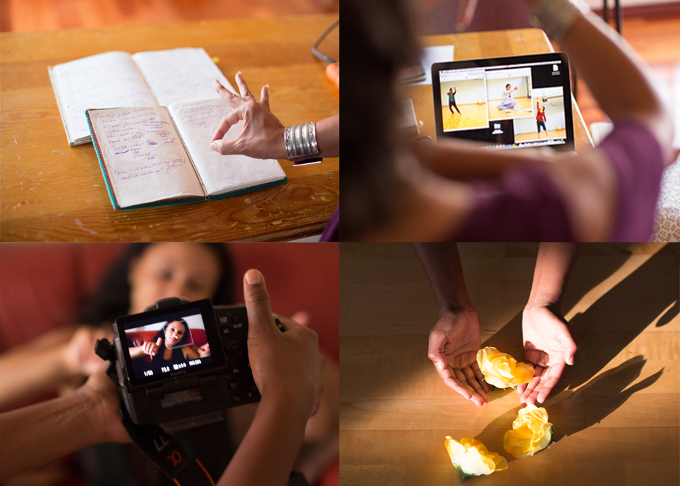 Workshop
Bodies – Borders – Migration
16. Juni 2017, 19 Uhr
In diesem Workshop entwerfen wir künstlerische Erkundungen und initiieren Community-Dialoge, die sich – unsere persönlichen und ererbten Migrationsgeschichten einbeziehend –  mit den Realitäten von Menschen auseinander setzen, die direkt von dem global wachsenden Wiederanstieg von Xenophobien, (gewaltsamen) Nationalismen, und "Grenz-ängsten" geprägt sind.  Gemeinsam wollen wir die Beziehungen zwischen Körpern und dem Geopolitischen, zwischen persönlicher Erfahrung, dem geteilten "community space" und politischen Kontexten und Entwicklungen be- und hinterfragen. Sandra Chatterjee und Cynthia Ling Lee von der Post Natyam Collective, die den Workshop leiten, werden auch (in progress) Arbeitsmaterialen aus dem derzeitigen Post Natyam Projekt Borders Resurfacing zeigen.Bitte etwas zum Schreiben und bequeme Kleidung in der ihr euch bewegen könnt mitbringen!
In this workshop, we will create artistic explorations and initiate community dialogue that draws on our personal/ancestral migration histories, while engaging with the realities of people who are (in different ways) directly affected by a growing global resurgence of xenophobia, violent nationalism, and border anxiety.  We want to jointly interrogate the relationships between the body and the geopolitical, between individual experience, the shared space of community and political contexts and developments. The facilitators, Sandra Chatterjee and Cynthia Ling Lee of the Post Natyam Collective, will also show glimpses of in-process material from their ongoing project, Borders Resurfacing, which investigates themes of migrations, borders, bodies, and citizenship. Please bring something to write with and wear comfortable clothing that you can move freely in.
Wann/when: Friday/Freitag, 16.06.2017, 19h
Anmeldung/registration: post.natyam@gmail.com
Teilnahme frei/Free.
Sprachen/languages: (primarily) Englisch, Deutsch